Good Afternoon!
Wednesday, August 5, 2020
NWS FORECAST FOR ASHFORD, WA:
OVERNIGHT: Mostly clear, with a low around 53. North northwest wind around 2 mph.
WEDNESDAY: Patchy fog between 7am and 8am. Sunny. High near 73, with temperatures falling to around 68 in the afternoon. Northwest wind 1 to 8 mph. New rainfall amounts less than a tenth of an inch possible.
WEDNESDAY NIGHT: Rain after 11pm. Partly cloudy. Low around 52, with temperatures rising to around 54 overnight. West wind 1 to 8 mph. Chance of precipitation is 80%. New rainfall amounts between a tenth and quarter of an inch possible.
THURSDAY: Rain. Mostly cloudy, with a high near 61. West northwest wind 1 to 12 mph. Chance of precipitation is 80%. New rainfall amounts between a quarter and half of an inch possible.
Forecast Updated: 8/05/2020 2:39 AM | Last Retrieved: 8/05/2020 2:11 PM
2020 RESPONSES
Calls To Date:
| | | | |
| --- | --- | --- | --- |
| TYPE | 2020 | AVG | DIFF |
| Total: | 196 | 159 | +23% |
| EMS: | 150 (77%) | 117 (74%) | +28% |
| Fire: | 37 (19%) | 29 (18%) | +28% |
| Other: | 9 (5%) | 13 (8%) | -31% |
Total in 2019: 342 (0.94 calls/day)
So far in 2020, we've had an average of 0.92 calls per day
As of Friday, July 31, 2020
BURN PERMITS
Online Burn Permit Application
FIRE DANGER
Pierce County
HIGH
Updated 08/05/2020
Lewis County
MODERATE
Updated 08/05/2020
BURN BANS
Pierce County
All land clearing and yard debris outdoor burning is banned.
Effective 07/30/2020 08:00 AM
Lewis County
Burn restrictions on outdoor burning for all of unincorporated Lewis County
Effective 07/18/2020 08:00 AM
DNR Pierce County
All permitted debris burning is suspended on DNR lands. Rule burns are not allowed.
Effective 07/16/2020 12:01 AM
DNR Lewis County
All permitted debris burning is suspended on DNR lands. Rule burns are not allowed.
Effective 07/15/2020 12:01 AM
Air Quality
No burn ban
Effective 08/23/2018 01:00 PM
More Info: (360) 569-2752
Updated: 07/29/2020 10:09 AM by SRB
ABOUT PIERCE COUNTY FIRE DISTRICT #23
Pierce County Fire District 23 was established in 1967 with stations in Ashford and Elbe. In 2010, District 23 began providing service to the citizens of Lewis County Fire District 17 (Big Creek) by contract - utilizing the Big Creek station and apparatus. In 2009, District 23 purchased the old Department of Natural Resources compound near Alder and converted it into an additional fire station to better serve the citizens in the west end of the district. Our district covers an area of 67 square miles, including the communities of Ashford, Elbe, Alder, and Big Creek. We also provide and receive mutual aid with the surrounding areas of South Pierce Fire & Rescue, Mineral Fire Department, and Mount Rainier National Park.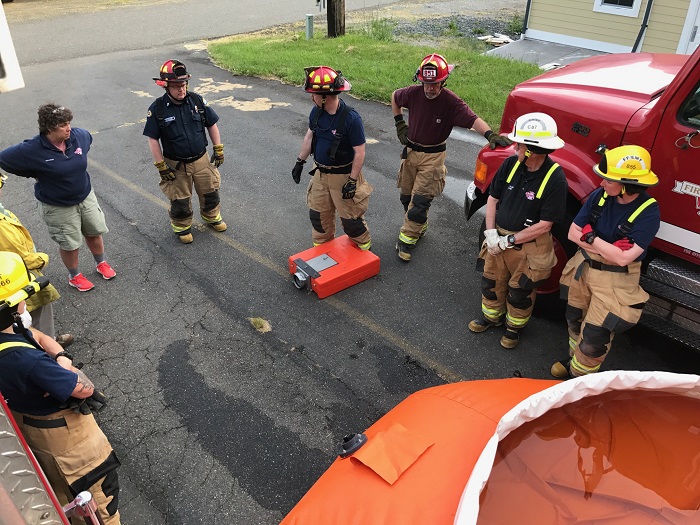 Tender operations training in Elbe, June 5, 2017
Pierce 23 Fire & Rescue is a combination department, with a paid full-time Fire Chief and a part-time administrative assistant. We currently have approximately 30 volunteer members, including a Training Captain, four lieutenants, a Safety Officer, a Chaplain, Firefighters, EMT's, and support personnel. The department is governed by an elected board of three fire commissioners. Commissioners meetings are held on the second Monday of each month, at 7 pm, at Station 87 in Ashford, and are open to the public.
We typically respond to about 280 calls annually. Our members make themselves available to respond to calls for service 24 hours a day, 7 days a week by either responding from home/work or by working standby shifts at the stations. We respond to calls including structural fires, medical emergencies, vehicle collisions, water rescues, technical rescues, wildland fires, and other citizen assistance. We also provide fire and injury prevention and education services to members of the community. Follow the links on the website for more information on our services.
History of the Department
We have been serving the Upper Nisqually Valley for over 50 years. Please click here to read a comprehensive history about the department!